Test of astromeccanica motors
with
pulley and belt coupling
and
mel BARTELS hardware and software.
Please note the test and curves is done with clean method.
The size of the pixel was calculated with a double star.
The star used was at approx. declination 2° near the meridian.
Internet site of astomeccanica :
http://www.astromeccanica.it/dual_axis_drive.htm
Note about the bartels :
With the SP-DX one step is 11.25 " , this makes the microstep tuning important and necessary, but the time you use to make this is nothing when you see the motor running, and round stars on your picture.
Alse note the motor must be used in unipolar mode, this makes necessary to build a new connector, and to solder some things. This operation is no more difficult with this motors than any other motor.
EP curve with regular MT1 motor and mel BARTELS system:
You can see the 15s problem because of gearing teeth :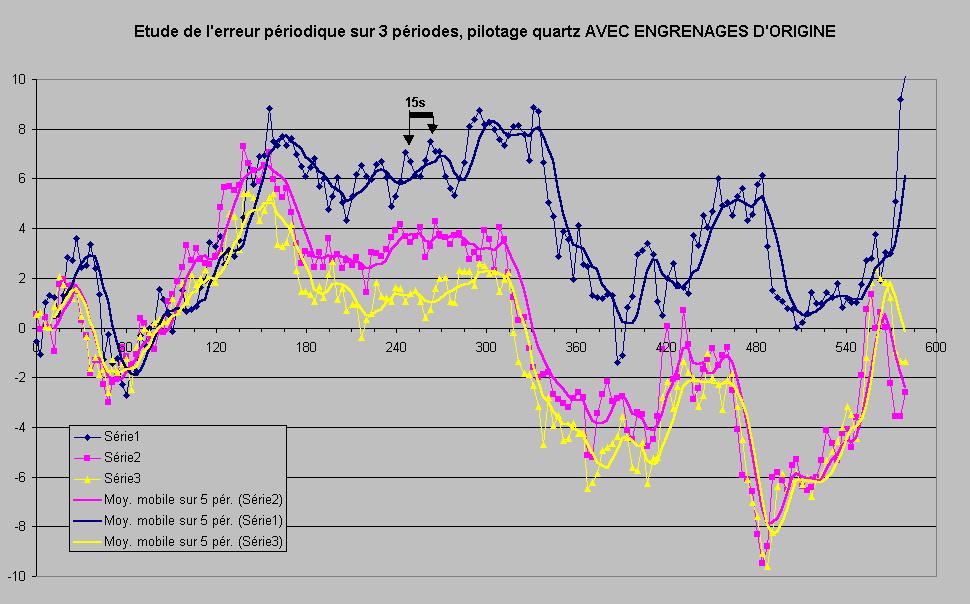 Same mount , but NOW with ASTROMECCANICA motors and mel BARTELS system:
The 15s problem has gone !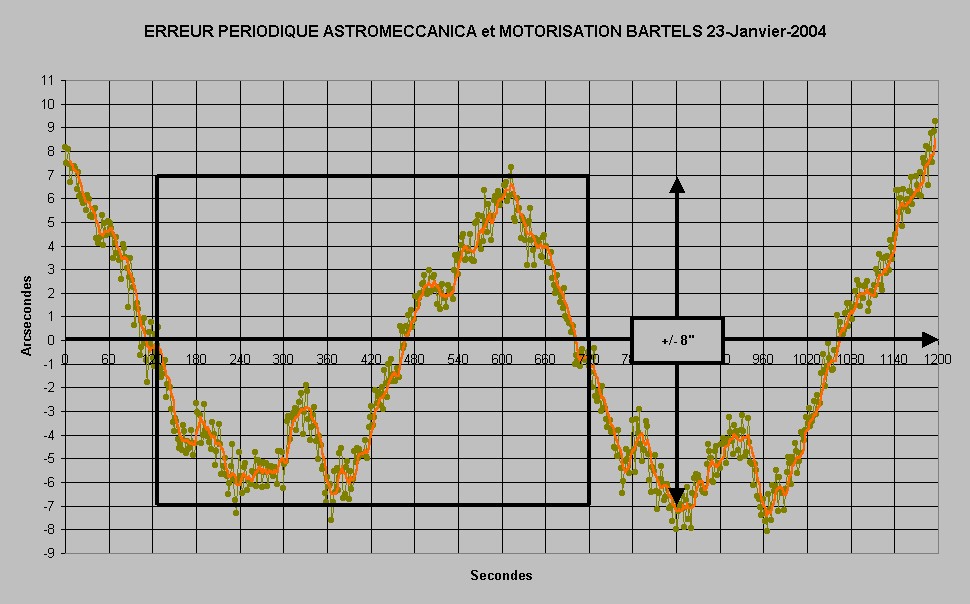 Red and blue curve, have gears : you can see large oscillation, the green curve is done with the astromeccanica motors, the problem has gone and the EP curve is now extremly smooth !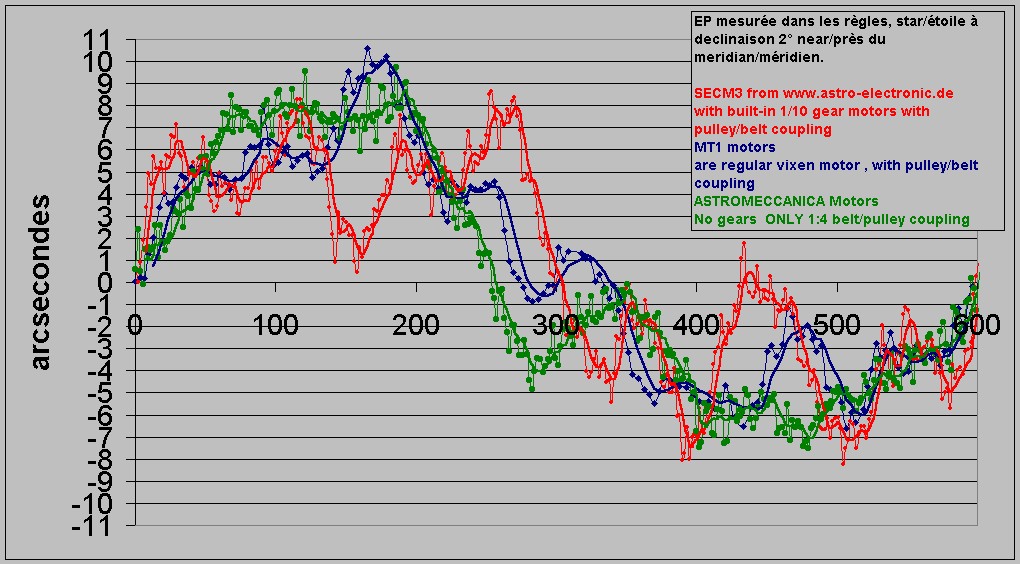 I have done an image with no registering to see the curve on a real picture ( 1pixel = 0.56" ) :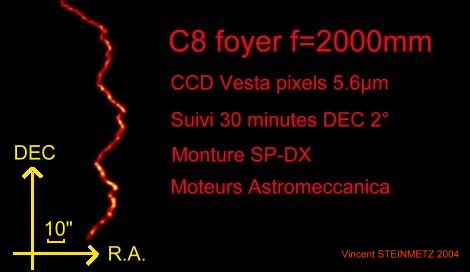 MY CONCLUSION IS THAT ASTROMECCANICA MOTOR BEACAUSE OF THE PULLEY AND BELT COUPLING , ARE CLEARLY GIVING THE BEST EP CURVE. THE CURVE IS NOW EXTREMELY SMOOTH AND EASY TO AUTOGUIDE
Sometimes, the mount's behaviour is better, the amplitude becomes very small at +/- 4" , see following picture :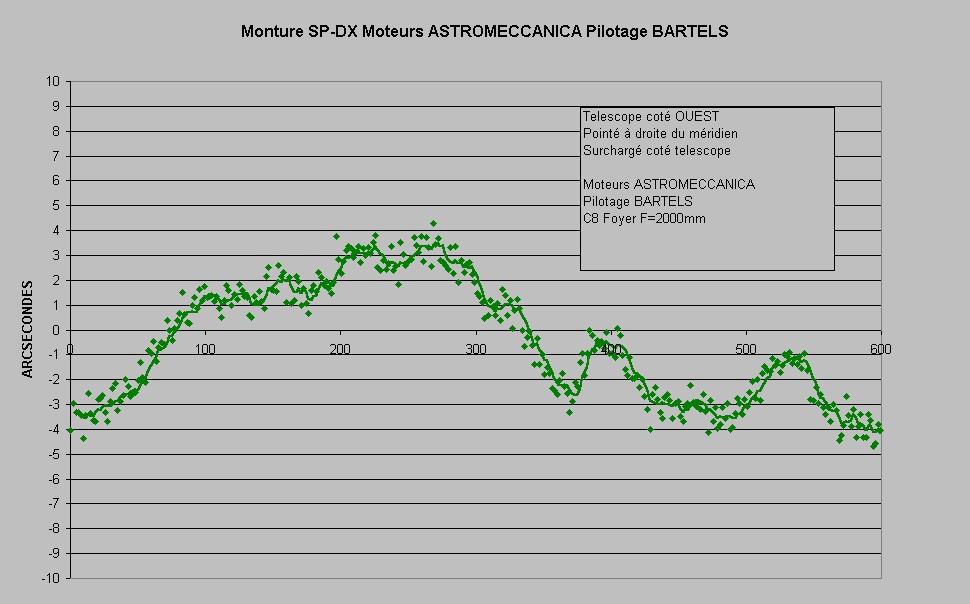 And image :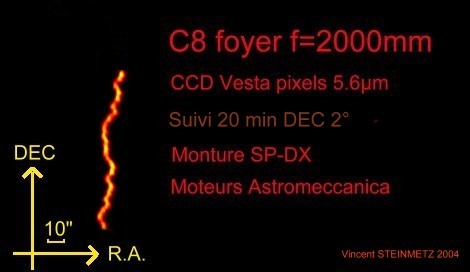 Note : If you find the motor are noisy, it is because the bartels is using a PWM frequency the human ear can ... hear , you can try to use nylon screw for both the case, and the motor and put a fine piece of rubber (black inner tube one uses for the bicycle ) between motor and box, and another between box and mount. In my case it has solved the problem, you can't hear the mount at all 10 meters away. Also , note you must fine tune the microsteps AND QSC to make the motor quiet : this the rule with the bartels.
INTERNET LINKS...
http://www.astromeccanica.it/dual_axis_drive.htm